The ISHA Virtual Education Programme
The Virtual Education Programme from ISHA – The Hip Preservation Society is a first-class open access virtual learning programme comprising live webinars and live surgeries with leading hip surgeons and hip preservation experts from around the world. Attendees to the Virtual Education Programme can expect to have the opportunity to learn practical tips and tricks, put their questions to leaders in the field and find out about the latest thinking in hip arthroscopy, hip preservation surgery and rehabilitation.
The ISHA Virtual Education Programme has several distinct advantages, including increased inclusivity around the globe, improved accessibility to virtual live and on demand sessions, and great flexibility and comfort for learning at a time that best suits you.
All ISHA Virtual Education Programme content is being recorded and collated into an on demand "ISHA Academy" – an ever-growing repository of high-quality, open access content that is intended to enable surgeons and hip care professionals around the world to provide their patients with the best possible care now and in the future.
"ISHA's live surgery program allows hip preservationists worldwide to join international thought leaders in their OR — virtually. Using Proximie, the incredible augmented reality surgery platform, the surgeon, moderator, and viewer can point to the arthroscopy screen in real time, while conversing with the operating surgeon. This series is an "only in ISHA" opportunity for sharing of tips, tricks, and ideas with some of the world's leading experts in Hip Preservation. We look forward to seeing you there!" — Benjamin Domb, MD, Chair of ISHA Education Committee
"The ISHA Webinar Series offers a unique forum for interactive thought sharing and collaboration by international leaders in hip preservation. Topics and areas of targeted interest reflect the diverse clinical challenges faced by providers. Viewers may expect to gain valuable insights into the art of clinical decision making with a modern, real world perspective. These seminars promise to add value to any committed hip preservation practice." – Brian Giordano, MD, Deputy Chair of ISHA Education Committee
ISHA Virtual Education Programme 2023/2024
The ISHA Virtual Education Programme promises to bring an exciting array of webinars and live surgery sessions from worldwide leaders in the field of hip preservation, covering new themes and new perspectives. In addition, there will be further opportunities for trainees and early career researchers to develop their skills in research planning and execution under the guidance of expert faculty as part of the ISHA Virtual Research Fellowship, led by the ISHA Research Committee.
How to Register
ISHA members will receive access links directly via email.
Non-members of ISHA are also welcome to join the Virtual Education Programme. The sessions are open access, but you must register to receive the access link.
Details of upcoming sessions are provided below.
Tuesday 5 December 2023 - 21:00 UTC - ISAKOS Webinar
ISHA is delighted to be collaborating with ISAKOS for a fantastic webinar on Assessment and Management of Version and Rotational Abnormalities of the Femur with FAI, taking place on Saturday 5th December at 21:00 UTC. The programme is packed with top faculty and will offer real-time translation into over 15 languages. All attendees (i.e. ISHA members and non-members) should register via the ISAKOS link below.
Watch Past Sessions
ISHA is delighted to offer its ISHA Academy as an open access content library in collaboration with VuMedi. Simply click on the button below to access the library and browse for the content that interests you.
In addition to the past Virtual Education Programme sessions detailed below, the library includes member-submitted, peer-reviewed content and past Annual Scientific Meeting content, so please do consult it regularly to make the most of the learning opportunities available.
ISHA Virtual Education Programme 2023/2024 - Live Webinars
ISHA Basic Research Webinar: Principles of Conducting Basic Science and Biomechanical Studies – 15 April 2023
ISHA LATAM Regional Hip Preservation Webinar (Spanish & Portuguese language webinar) – 27 May 2023
ISHA Virtual Education Programme 2023/2024 - Live Surgery – Skills Training and Expert Techniques using Augmented Reality
Efficient, Anatomic, Knotless Repair of the Labrum and Capsular Management – 29 September 2023
ISHA Virtual Research Fellowship Programme 2022
Session 1: Planning and executing clinical research – 17 September 2022
Session 2: Planning and executing other research designs – 24 September 2022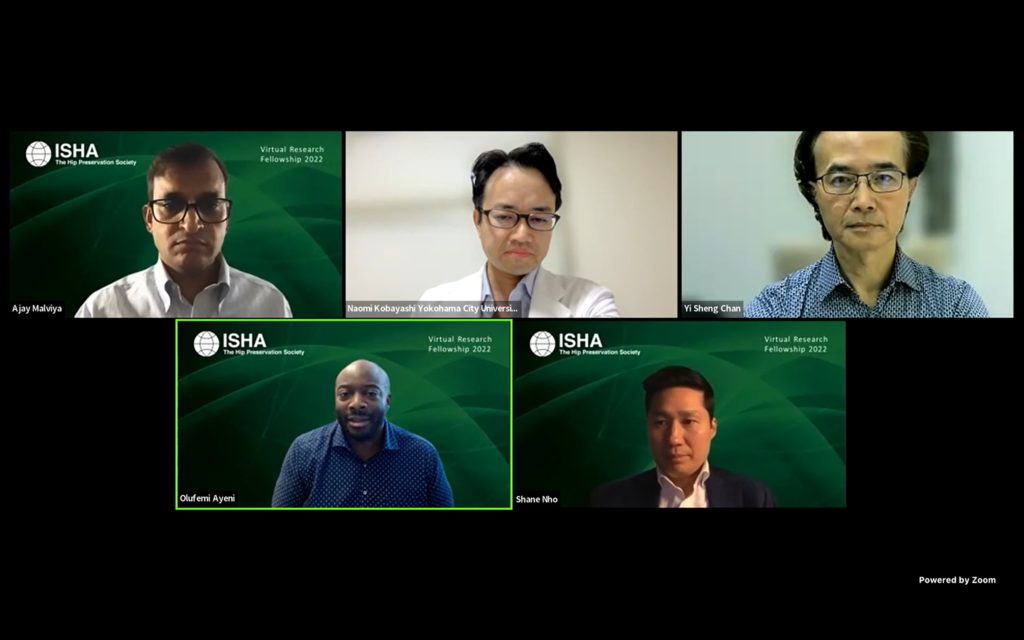 ISHA Virtual Education Programme 2021/2022 - Live Webinars
ISHA 2021 AGM: Academic Sessions – Best Trainee and International Papers – 13 November 2021
Complications and Training in Hip Arthroscopy – 17 July 2021
The Synergy of Open and Arthroscopic Techniques in Hip Preservation Surgery – 19 June 2021
Continued Hip Pain Over A Year After Hip Arthroscopy – What is the cause, and how do we fix it? – 5 June 2021
Patient Communication and Technology: From the Micro to the Macro – 22 May 2021
LATAM Webinar With Portuguese – Spanish Translation – 20 March 2021
Friends Talking Hip Preservation – Sponsored by Stryker – 6 February 2021
Challenging Illusions Within Hip Arthroscopy – Sponsored by CONMED – 23 January 2021
The Role of Biologics in Hip Preservation – Sponsored by Arthrex – 5 December 2020
Recognizing Acetabular Retroversion: When should a PAO be performed? – 21 November 2020
From Start to Finish: The Utilization of Multi-Phase Physiotherapy in Hip Arthroscopy – 19 September 2020
Navigating Through the Covid Cloud: How the Novel Coronavirus Has Changed Hip Preservation Practice – 15 August 2020
ISHA Virtual Education Programme 2021/2022 - Live Surgery – Skills Training and Expert Techniques using Augmented Reality
Pincer Decompression and Labrum Repair – 21 May 2021
Peri-Acetabular Osteotomy – 23 April 2021
Psoas Tenotomy on THA (Endoscopic extra capsular technique at the level of the psoas Notch) – 6 April 2021
Labral Reconstruction / Augmentation using the Knotless Pull-Through Technique – Sponsored by Arthrex – 2 March 2021
Hip Preservation Primary Capsule Considerations, Labrum Repair + FAI – Sponsored by Smith + Nephew – 18 February 2021
Gluteus Medius and Minimus Repair with Allograft Augmentation High Grade Partial Hamstring Tendon Tear Endoscopic Repair – Sponsored by CONMED – 16 November 2020
Acetabular Labrum Re-fixation in 2020 – 40 November 2020
May Blitz on Hip Preservation 2020
The Evolution of Hip Preservation: Hip Labrum + Acetabulum Considerations – Sponsored by Smith + Nephew – 20 May 2020
Techniques and Trends in Labral Reconstruction – Sponsored by Arthrex – 15 May 2020
A Paradigm Shift in Hip Arthroscopy – Sponsored by CONMED – 9 May 2020