ISHA – The Hip Preservation Society is an international organisation which is focused on hip preservation surgery to enhance patient care and outcomes, through delivery of training, education, support of research, sharing of knowledge and best practice, fostering global collaboration and provision of patient and professional information to improve hip care.
ISHA is a Charitable Incorporated Organisation (CIO – ASSOCIATION) registered in England and Wales on 01 June 2022.
Charity Number: 1199165
Mission Statement
Our mission is to create "healthy hips" by bringing hip preservation, prevention and treatment to all the people regardless of age, social status, gender or economic situation.
Vision Statement
Our vision is a world with equitable access to quality treatment and the best achievable patient outcomes through improved access to appropriate treatment, early intervention, prevention and education, with the goal of us living in a world where hip joint replacement is only an occurrence of old age.
ISHA's Purpose
ISHA's purpose is to:
support improved quality of training and education to hip preservation professionals
provide greater access to learning and training of healthcare professionals with an interest in hip preservation
support research
advance hip disease awareness
improve patient understanding and impact of undiagnosed hip injury and disease
create an understanding and facilitate patient access to early intervention, diagnosis and treatment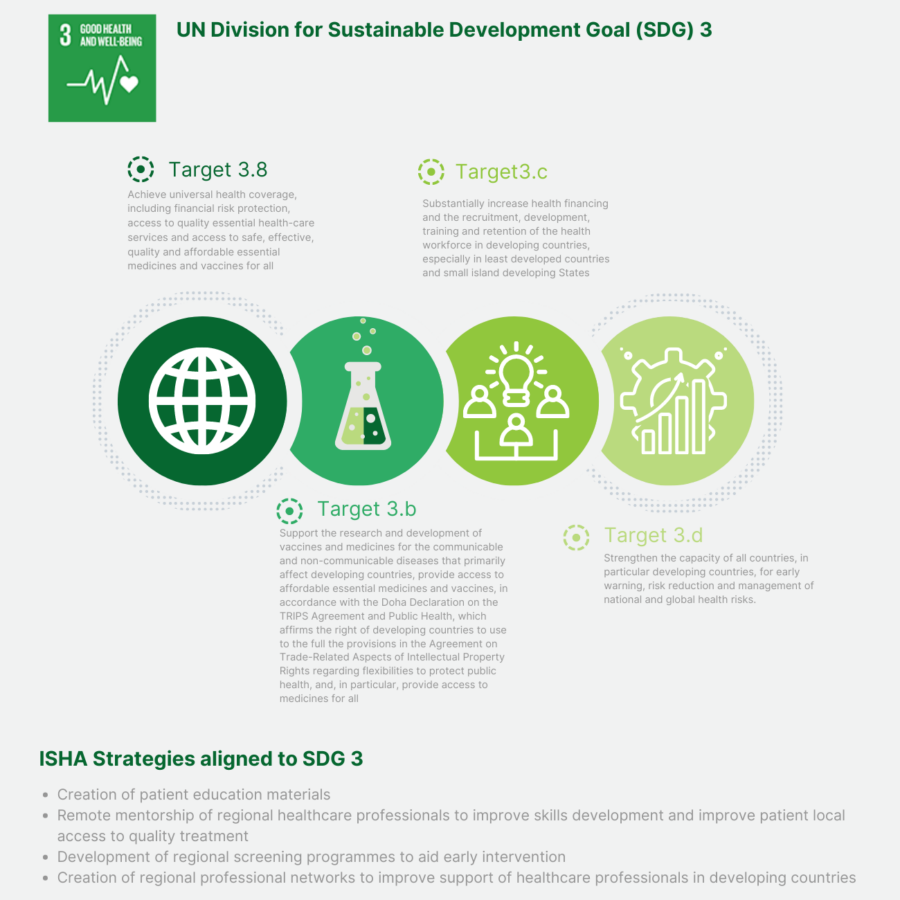 Good Health and Well-Being
ISHA Strategies aligned to SDG 3:
Creation of patient education materials

Remote mentorship of regional healthcare professionals to improve skills development and improve patient local access to quality treatment

Development of regional screening programmes to aid early intervention

Creation of regional professional networks to improve support of healthcare professionals in developing countries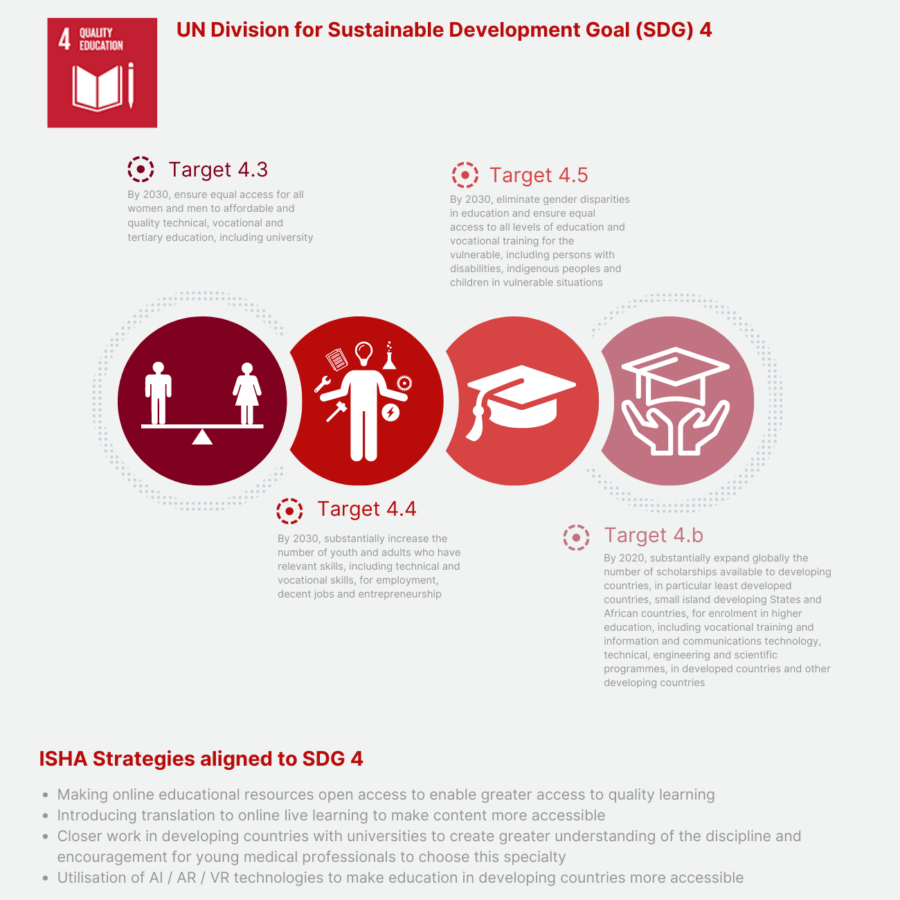 Quality Education
ISHA Strategies aligned to SDG 4:
Making online educational resources open access to enable greater access to quality learning

Introducing translation to online live learning to make content more accessible

Closer work in developing countries with universities to create greater understanding of the discipline and encouragement for young medical professionals to choose this specialty

Utilisation of AI / AR / VR technologies to make education in developing countries more accessible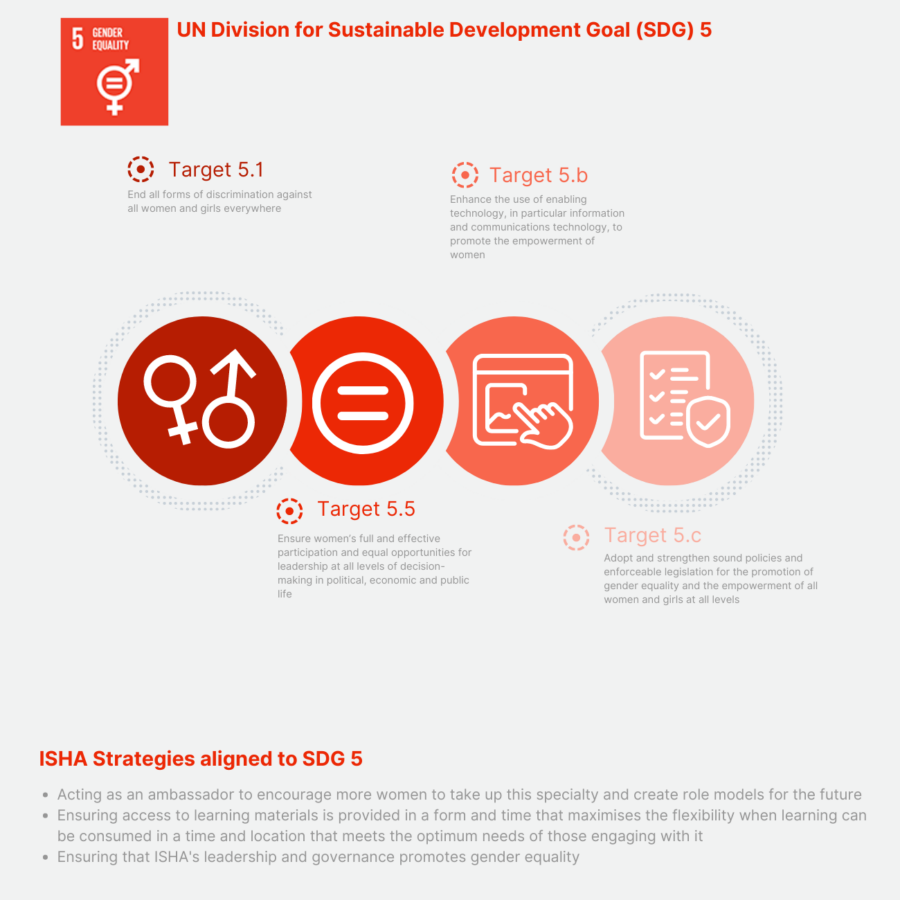 Gender Equality
ISHA Strategies aligned to SDG 5:
Acting as an ambassador to encourage more women to take up this specialty and create role models for the future

Ensuring access to learning materials is provided in a form and time that maximises the flexibility when learning can be consumed in a time and location that meets the optimum needs of those engaging with it

Ensuring that ISHA's leadership and governance promotes gender equality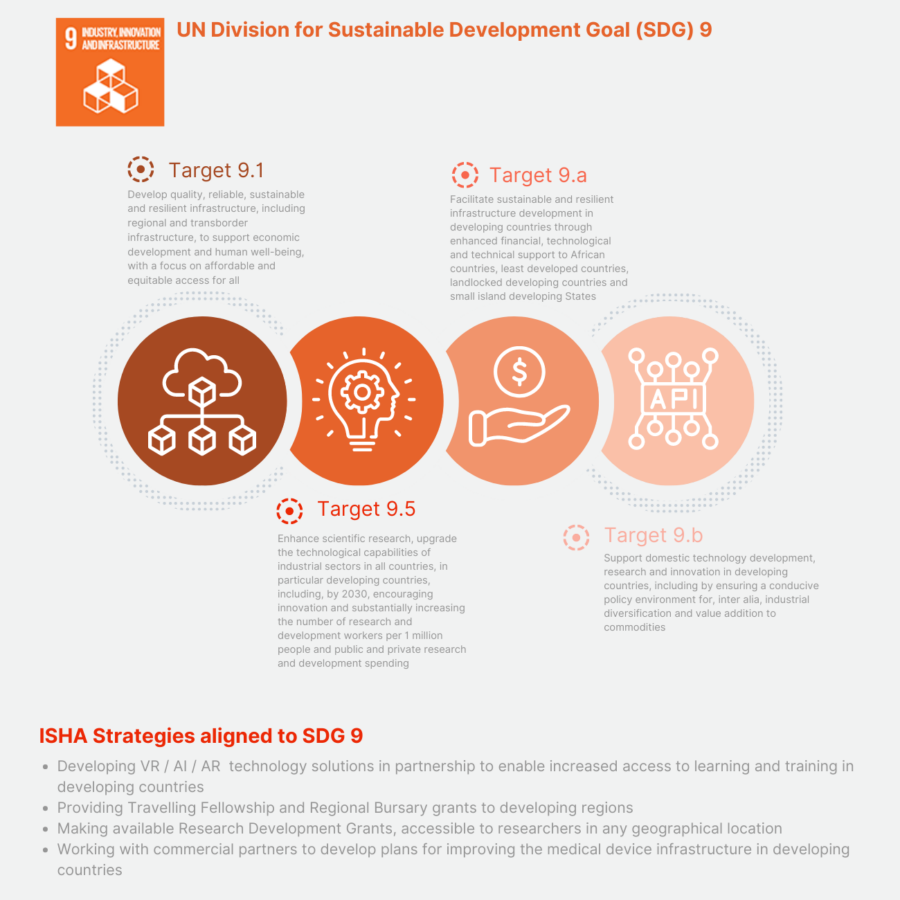 Industry, Innovation and Infrastructure
ISHA Strategies aligned to SDG 9:
Developing VR / AI / AR

technology solutions in partnership to enable increased access to learning and training in developing countries

Providing Travelling Fellowship and Regional Bursary grants to developing regions

Making available Research Development Grants, accessible to researchers in any geographical location

Working with commercial partners to develop plans for improving the medical device infrastructure in developing countries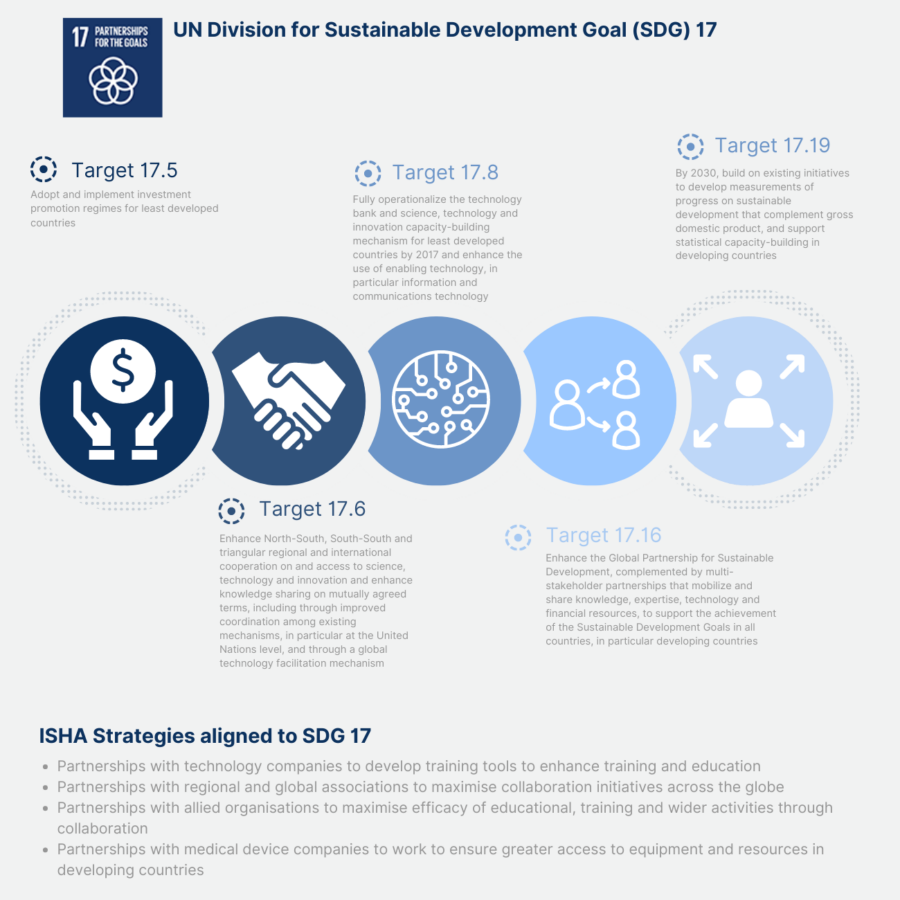 Partnerships for the Goals
ISHA Strategies aligned to SDG 17:
Partnerships with technology companies to develop training tools to enhance training and education

Partnerships with regional and global associations to maximise collaboration initiatives across the globe

Partnerships with allied organisations to maximise efficacy of educational, training and wider activities through collaboration

Partnerships with medical device companies to work to ensure greater access to equipment and resources in developing countries
Registered Office Address
Lee Bolton Monier Williams
1 The Sanctuary
LONDON, UK
SW1P 3JT
Administrative Office Address
Warrender House
Haywood Road
MOFFAT, UK
FG10 9BU
Tel: +44 (0)203 519 9427
Email: member@isha.net